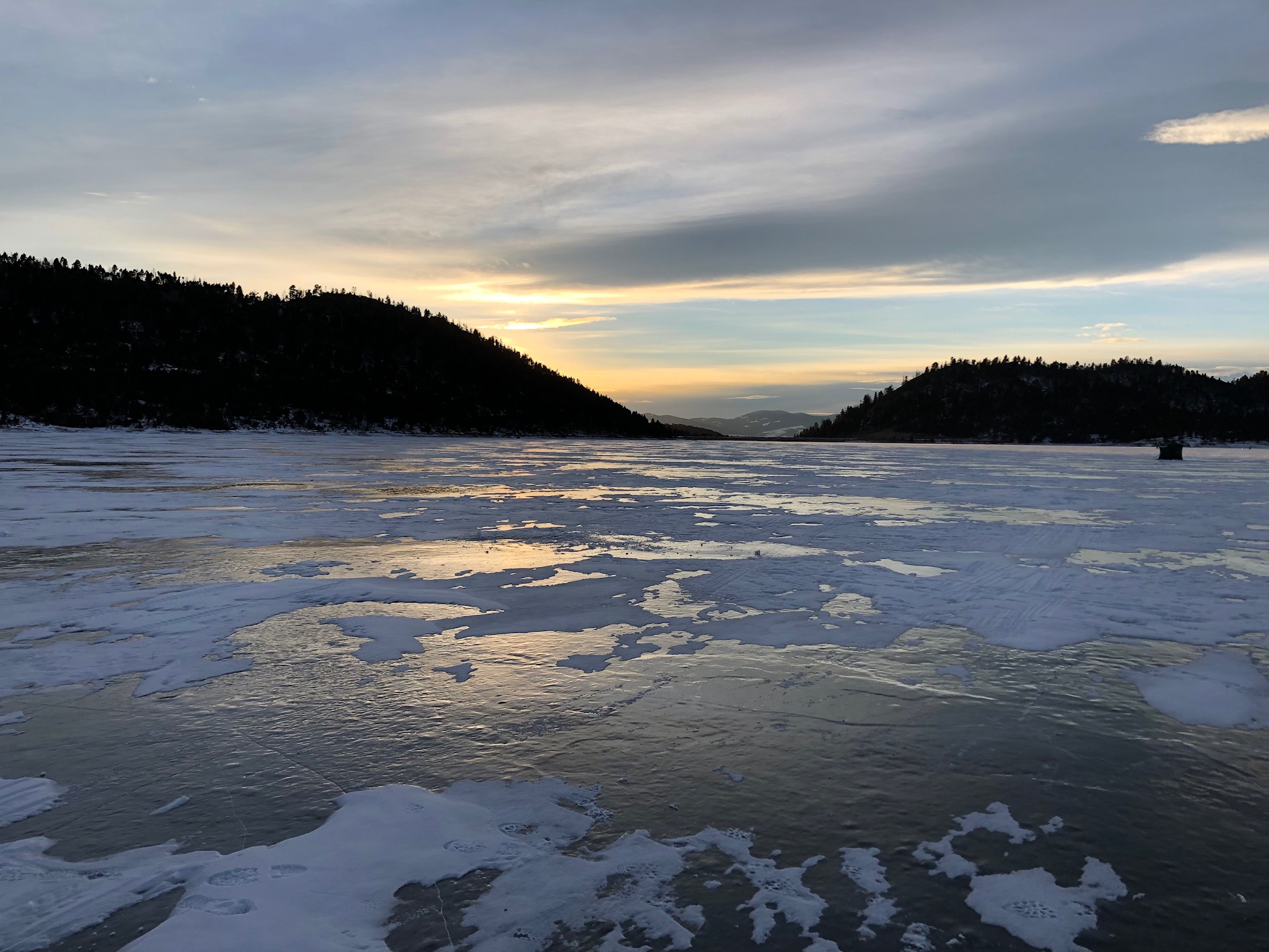 I just woke up to the sound of Brewer's "Jaw Jacker" springing into a small Burbot. It's 5:30 in the morning. "Holy shit Brewer we got one, wake up buddy!" Brewer rolls over in his cot with disbelief, but before he could say "hold it up" for a picture, I quickly release the small fish back through the ice. Oops, I guess I'm not thinking that clearly this morning. Either way, that's a hell of a way to start a day. Let's turn on the fish finders and start fishing.
Spending a night out on a frozen lake was definitely a first for me, and you can bet next time I'll have a cot like Brewer. This lawn chair wasn't nearly as comfortable as I had imagined. Sleeping on the ice is disorienting, cold, and a little spooky. But Brewer sure did look comfy all night on that stupid cot. The wind is howling and has been since we got here. Our weather app said it would be breezy, so good thing we safely secured the shanty to the ice yesterday afternoon. The constant gusts only made us nervous for about an hour or so, then we figured we would have blown away already if we did a bad job. So at least we felt pretty safe in the hut. I did catch a fish last night too, while Brewer was snoring in his cot. A small Burbot, maybe 10 inches, on a baited tip-up. So
flyfishermenly of me… My first fish of the year is a tiny Burbot, I wonder what that means.
Also, when we got here yesterday, I was jigging not too far from where the shanty is set up now. I watched my fish finder light up with a big red mark, rising up the screen. It looked like a fish but it just kept moving up, passing my lure and continuing towards the surface. It was at about 8 feet when I thought to look down my hole to see if something was really coming up. And sure enough, as I'm looking down the hole I see a big burbot coming straight for the transducer (a cord that sticks in the water with sonar attached to the fish finder). I saw his big flat head and his long speckled belly as he turned and swam away right before he hit the ice. Brewer was just as shocked as I was when I tried to tell him what happened. I sat in that hole for the rest of the day, determined to catch that fish. Never did. Even left a tip-up in that hole all night without a bite. Bastards. Apparently the Burbot can feel or hear the noise given off by the sonar, and we have heard that sometimes a fish will come up and poke at the transducer. Never thought I'd see it though.
Now that we are both up and drinking our caffeinated morning drinks, we are feeling like pioneers or something. Conquerors. Like somehow, even though we caught only undersized Burbot, we feel like we did in fact catch and release a state record size fish last night. We didn't though, and didn't even get close. Aside for a few good bites here and there,  the fishing has been very slow the past day out here.
We are still using big spoons tipped with sucker meat, pounding the bottom of the reservoir. Repeatedly dropping and lifting your spoon on the bottom will stir up a small cloud of muck. Mimicking a crayfish or something messing around, and attracting the attention of any fish in the area. Marks on the fish finder are cruising in and out pretty frequently, but no bites.
We've been fishing for well over 12 hours straight at this point, and I can honestly say that I'm still not bored. All it takes is one slow fish marking on the screen to get us right back into it. We just got another small burbot on the same tip-up that was hot last night too. It is sitting in about 10 ft of water- a little shallower than we thought would be productive, but you never know…
The fish finder is a great tool for locating fish through the ice. There have been so many times this season where we probably wouldn't have caught fish if we didn't have it. Trout love to circle and poke a bait a few times before they fully commit, so the fish finder helps you get ready for a nibble that could be so tiny you wouldn't feel it unless you knew something was down there. But sometimes they can be torturous too. Constantly seeing marks on the fish finder coming up to your lure, but never getting them to eat can be pretty frustrating. Especially when you are getting closer and closer to 24 hours straight of ice fishing. And as the morning rolls into the afternoon we realize we better leave before we stay another night. We can't just live on the reservoir for the rest of the winter. But if we did, I bet we would catch a state record Burbot!
0